London, England is a city that's known for experiencing a lot of rain, which leads people to wonder what it's like during the winter months. Does it snow in London?
Winters don't bring a lot of snow into London, England. Although there may be a small amount of snow each year, it's very rare for it to stay on the ground overnight. This city is more likely to experience heavy rainfall in the depth of winter than a snowfall. 
Are you curious to know more about what London's climate is like in the winter? You've come to the right page. Today, we'll discuss when it snows in London and how much snow the city usually receives. We will also discuss this city's climate so you know what to expect when you visit. Keep reading to learn more.
Does It Snow In London? 
Snow is something that people in England can expect, but only in small doses. While it does fall during the winter months, snowfalls are very infrequent. Before 1990, it was common to snow an average of 16 days throughout the winter season. Since then, the amount of snow received has severely decreased.
While residents of London can usually expect to see some snow each year, rarely is it ever heavy. It's not common to have blizzards or snow squalls. When snow does occur, it's often mixed with sleet. More recently, it has only snowed 3 to 5 times per winter. 
What Is Winter Like In London?
Like the rest of the year, if you travel to London, England in the wintertime, you can expect a lot of rain. Most winters in England are very cold and rainy. While it does get chilly, there aren't many days where the temperature drops below freezing. The average temperature range in winter is between 41 and 48 F/ 5 and 9 C.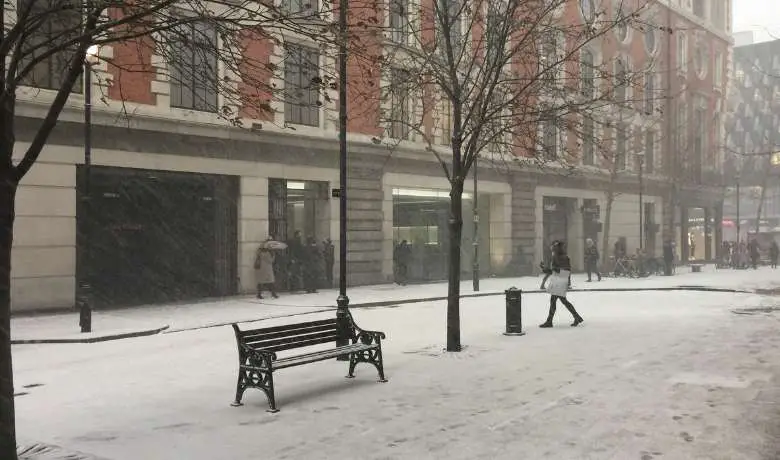 That being said, there are times when the temperature will drop below 32 F/ 0 C. The coldest months of the year are January and February. If it's going to snow, it will likely occur during these months.
The winter season in London is very long compared to the summer season. If you visit the city during these months, you can expect cool weather, high winds, and many cloudy days.
Is London, England Cold?
London can get very chilly in the winter, but not as cold as other areas of the world that get more snow. The summer season is relatively short, with comfortable weather as well. It doesn't get too hot or too cool in the summer. Let's take a look at the average highs and lows for London, England throughout the year:
| | | |
| --- | --- | --- |
| Month | Average Daily High | Average Daily Low |
| January | 46 F/ 8 C | 37 F/ 3 C |
| February | 48 F/ 9 C | 37 F/ 3 C |
| March | 53.5 F/ 12 C | 39 F/ 4 C |
| April | 59 F/ 15 C | 43 F/ 6 C |
| May | 64 F/ 18 C | 48 F/ 9 C |
| June | 71.5 F/ 22 C | 53.5 F/ 12 C |
| July | 75 F/ 24 C | 57 F/ 14 C |
| August | 73.5 F/ 23 C | 57 F/ 14 C |
| September | 68 F/ 20 C | 53.5 F/ 12 C |
| October | 61 F/ 16 | 48 F/ 9 C |
| November | 52 F/ 11 C | 41 F/ 5 C |
| December | 48 F/ 9 C | 37 F/ 3 C |
As you can see, the temperature in London doesn't change too drastically throughout the year. The main thing that changes is the weather conditions. There is a lot more wind in the winter, while rain is more frequent in the summer.
Are There Ever Snowstorms or Blizzards In London?
If you're planning to visit London in the wintertime, you likely don't have to worry about a snowstorm interrupting your trip. Snowstorms are rarely ever seen in this part of the world. In fact, the last time there was a blizzard in London, England was in the 1920s. Even then, the amount received wasn't what other parts of the world would consider a big storm.
Looking through London's history, there have been some snowy days, but no blizzard conditions. There was a heavier snowfall in December 1981 and January 1982. In 1987, London did experience a very cold winter. That year, a snowfall stayed on the ground for nearly a week. Again in February 1991, another big snowfall settled on the ground for a few days.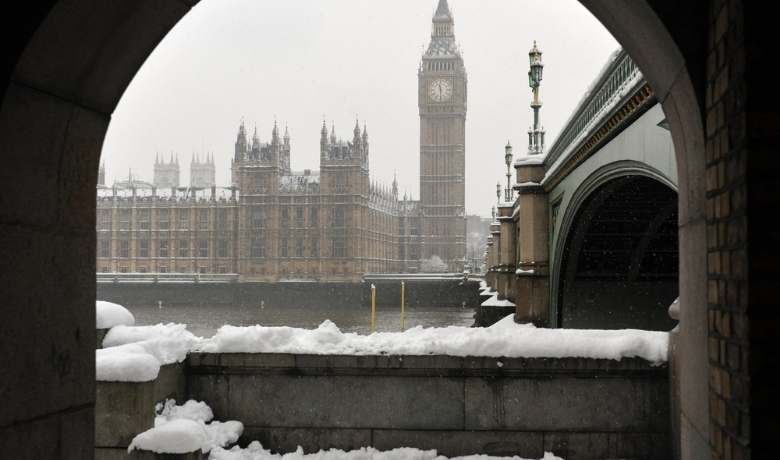 After the early 1990s, London received a lot of snow only in the winter of December 2008 to January 2009, when the city received significant snowfall. Since then, residents of London will nod in agreement that the city rarely receives a proper snowfall. On the rare occasion when they are greeted with snow, it tends to be the big fluffy snowflakes that melt quickly. 
Is London Icy In Winter?
One of the good things about London's climate is that ice isn't a huge problem in the winter. Drivers don't have to worry about slippery roads or black ice conditions during winter. Citizens can go for a walk without worrying about slipping on the sidewalk. Homeowners aren't worried about putting enough salt down so the mail carrier doesn't fall on the icy patch. 
The city of London does like to play it safe though. The train services may be canceled or delayed when the temperature drops below freezing. This is because ice builds up on the rails, creating unsafe traveling conditions. If you plan to use the train service in London during winter, you will need to plan your trip based on the weather forecast.
Are London Winters Wet?
London winters are very wet. When it comes to rain and precipitation in London, it can be expected every month of the year.
On an average winter day from December through February, there's usually a 21 % to 29 % chance of rain.
February is generally the driest month in London with an average of 32 to 40 mm. December and January, on the other hand, will get an average of 50 mm of rain.
Autumn is the wettest season in London, England. The most rain falls throughout October, with an average of 73 mm of rain during this time. 
Does London Get a White Christmas?
The last time London had a white Christmas was in 2010. While everyone in the city dreams of a big fluffy snowfall on Christmas morning, it has only ever happened 3 times. It's rare for snow to settle in London, and in typical fashion, it usually rains on Christmas day. 
Most snowfalls in London don't accumulate enough to form a blanket of snow over the city. This may occur once every few years.
Are There Winter Activities in London, England?
Winter activities aren't the biggest tourist attraction in England, but there are some really fun things to do. If you visit during the month of December, you may get to see Hyde Park Winter Wonderland. There is a really big Christmas market, holiday decorations, mulled wine, and even a circus performance.
Ice skating is another popular activity in London when it's cold. Somerset House has a stunning skating rink that's always nicely decorated around the holidays. If you're in a holiday mood, there's a 20-meter-high Christmas tree in Trafalgar Square in December. 
If you enjoy cold weather, winter can be the perfect time to take a tour of London's famous parks. Many tourists enjoy grabbing a hot chocolate or coffee and taking a stroll through the parks. Mercer Roof Terrace is another spot that tourists need to visit in the winter because they can enjoy a drink inside an igloo.
While ski resorts may not be popular in London, holiday decorations are. Many tourists simply enjoy taking tours of the city in December to see how nicely it's decorated. Shopping and dining out after dark is a treat because the city is lit with holiday lights.
Final Thoughts
Does it snow in London? While there is snow each winter in London, there isn't a lot. It may only snow for 3 to 5 days each winter season. On top of that, it's rare that the city receives more than an inch of snow at a time. Most snowfalls are very light, and the snow doesn't settle on the ground.
While the winter season is also considered London's dry season, it does rain more than it snows. Residents are more likely to see rain than snow on Christmas day. Even though it can switch from snow to rain seamlessly, it's not common for it to become icy in the winter months. 
One of the main reasons that it doesn't snow a lot in London, England is that the temperature doesn't sink below freezing often. It is common for some days to be below freezing, however, it mainly occurs overnight. The average daily low for each month during winter is above freezing.